Opening hours season 2019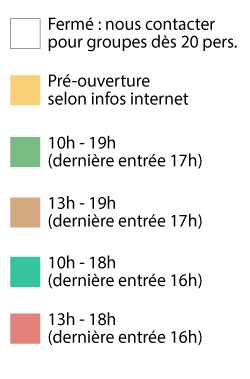 March
Depending on weather pre-opening the weekends of 17-18 and 24-25

It will be announced the Tuesday for the weekend on the website
From 28/03 to 08/04
Open for the holidays all days from 10:00 to 19:00
From 09/04 to 29/06
Open the weekends and holidays from 10:00 to 19:00
The week from Tuesday to Friday from 13:00 to 19:00
From 30/06 to 26/08
Everyday from 10:00 to 19:00
From 27/08 to 08/09
Open the weekends and holidays from 10:00 to 19:00
The week from Tuesday to Friday from 13:00 to 19:00
From 10/09 to 30/09
Open the weekends and holidays from 10:00 to 18:00
The week from Tuesday to Friday from 13:00 to 18:00
From 01/10 to 03/11
Open the weekends and holidays from 10:00 to 18:00
Wednesday from 13:00 to 18:00
Holidays from 19/10 to 27/10 all days from 10:00 to 18:00

Halloween night climbing the 26 October and 2 November

More information
According to availability we can open outside the usual working hours for schools and groups above 15 persons on request. Online booking mandatory.
This time schedule depends on Genevan holidays. We are also open on public holidays.
The opening hours may be change according to exceptional situations that will be announced on our website.
Last entrances possible 2 hours before closing.
Last access to the courses 30 minutes before closing of the park.